Préparation à l'examen TCF Tout Public (TP)
Préparez-vous à passer votre test de Connaissance du Français (TCF) – Tout Public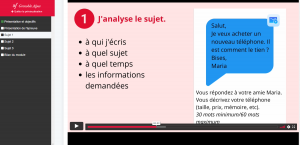 To guide you, the Alliance Française Grenoble Alpes offers a 100% online course to prepare you for the Test de Connaissance du Français (TCF) – Tout Public exam on its digital platform
It will help you feel more confident and better prepared for the test.
In addition to preparing you for the practical exam, our pedagogical department offers you all of their personal advice so that you have all the necessary tools to be at ease on the day.
This course was designed by examiners who administer the optional oral portion of the test, providing excellent guidance and advice to candidates.
Description of the TCF TP test preparation course 100% online: This course aims to prepare you for a future TCF exam. At the end of the course, you will be able to take the TCF TP exams ( obligatory and facultatives). This program will prepare you for:
The collective tests (oral and written comprehension and language structure)
The facultative tests (oral and written expression)
Objectives of the TCF TP test preparation course: to develop and perfect your French language skills (comprehension and expression), mainly for levels B1 and B2.
Requirements: To have the desired level for the test. The course does not aim to bring you up to this level, even if the course will undoubtedly help you progress in French. Its purpose is to train you for the exam and its methodology and to help you feel at ease before the exam.
Access: One month access to your online class.
Average length of the course: 15 hours
---
Why choose our formations?
If you want to register, it's here: